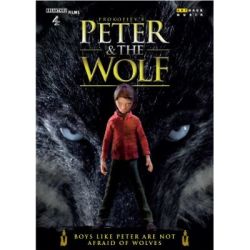 Peter And The Wolf
(perhe-elokuva vuodelta 2006)
Vuoden 2006 Peter And The Wolf ("Pekka ja susi") on stop-motion-tekniikalla toteutettu musiikkielokuva. Isoisänsä ja ankkaystävänsä kanssa lähellä metsänrajaa asuva Pekka päättää napata kyläläisiä uhkaavan suden.
DVD-julkaisu: ainakin UK ja USA
---
Takaisin etusivulle
---
Koiraelokuvat.info is a non-commercial, non-profit fansite for information purposes only. No copyright infringement intended. All titles, characters, cover pictures and other images are © their respective owners.