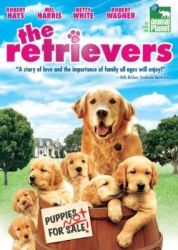 The Retrievers
(lastenelokuva vuodelta 2001)
The Retrievers ("Noutajat") on elokuva amerikkalaisesta Lawryn perheestä, joka muuttaa kaupungista maaseudulle. Heti muuttopäivänä he huomaavat saaneensa uuden perheenjäsenen sinnikkäästä kultaisestanoutajasta. Lawryt päättävät pitää koiran ja antavat sille nimeksi Pilot. Pian Pilot synnyttää kuusi suloista noutajanpentua, joista luopuminen osoittautuu eläinrakkaalle perheelle mahdottomaksi tehtäväksi. Pennut ovat jo lähteneet uusien omistajiensa mukaan, kun Lawryn perhe tuleekin katumapäälle. He lähtevät noutamaan ilmaiseksi luovutettuja pentuja takaisin kotiin.
(...WTF?)
DVD-julkaisu: ainakin USA
---
Takaisin etusivulle
---
Koiraelokuvat.info is a non-commercial, non-profit fansite for information purposes only. No copyright infringement intended. All titles, characters, cover pictures and other images are © their respective owners.