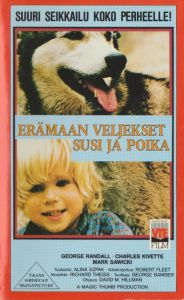 Brothers of The Wilderness
(perhe-elokuva vuodelta 197X)
Brothers of The Wilderness on elokuva amerikkalaisesta perheestä, jonka pikkupoika katoaa Sierra Nevadan metsiin. 3-vuotias Stephen on automatkalla isänsä kanssa, kun onnettomuus pysäyttää auton. Stephenin isä menettää tajuntansa, joten poika lähtee etsimään isälleen metsästä vettä. Tällä välin metsänvalvoja saapuu onnettomuuspaikalle ja järjestää Stephenin isän ensiapuun. Perheen pakettiauton hän ajaa itse sairaalan pihalle. Palatessaan autolle Stephen saa huomata olevansa yksin keskellä erämaata.
Pian Stephen kohtaa metsässä koirasuden. Susi johdattaa pojan omistajansa, vanhan kullankaivajan, mökille. Ennen paluutaan perheensä luo Stephen oppii huuhtomaan kultaa ja joutuu mukaan rikollisten kullankaivajien kieroiluihin.
Elokuvan koiraosuus on lyhyt mutta merkittävä.
VHS-julkaisu: Suomi, nimellä Erämaan veljekset - susi ja poika
---
Takaisin etusivulle
---
Koiraelokuvat.info is a non-commercial, non-profit fansite for information purposes only. No copyright infringement intended. All titles, characters, cover pictures and other images are © their respective owners.